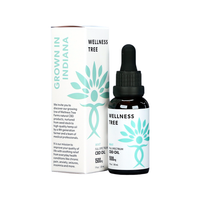 CBD Oil [1500 mg] Mint 1 oz
Each dropper of this minty favorite delivers 50mg of Wellness Tree Farm's full spectrum CBD oil — about 30 measured servings per 1 ounce (30mL) bottle. Natural mint is a popular choice for the potential health and wellness benefits of our pure biologic CBD.

*Contains less than 0.3% THC in accordance with the Federal Farm Bill of 2018.